Display Your Art
Want to share your talent and display your art on the walls of Stone Church?
Please send an email to cheryl@stonechurchrocks.com
We schedule new shows monthly and send a big thanks to all the artists who have adorned our walls this past year.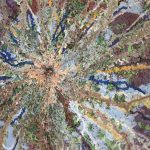 Currently on Display – William Hayes
Bill was born in Presque Isle, Maine in 1975 and has been residing in NH since 1997, currently in the town of Gonic. He likes to paint landscapes, nautical scenes, animal portraits and occasional abstract works.  He started drawing as soon as he could hold a crayon, creating art allover the walls and furniture.  When he was 10, his dad gave him a and a Bill Alexander art book. For a few years he did a lot of experimental art, trying to copy Bob Ross paintings and creating some of his own. As a teenager, he lost interest in painting and wanted to be a musician, starting with a guitar at 14 years old. He loved heavy metal (Metallica, Slayer, Pantera etc…) and later on mellowed out and learned to play banjo, fiddle and bass guitar. He played in many bands, performed live, went to Nashville and made some recordings. He says "I never got rich or famous, but I did get burnt out!"  (I say "You gotta come play at open mic!")  When he wasn't feeling the music thing much anymore, so he decided to completely abandon it, and in late 2015,  he decided to buy some art supplies and start oil painting again. He took online art lessons and within a few weeks, started posting my work on social media and was receiving positive feedback from friends and family, So he kept at it. We're glad he did because Stone Church is looking good with his work on our wall!  Bill's paintings can be purchased right here at the Stone Church.  You may contact him at wfhayes@hotmail.com or 603/828-7669.
Promoting the Visual Arts
The Stone Church has a long history of promoting the visual arts, starting with Jessica Alford, the muralist who painted the iconic portraits of the  beloved musicians on the outside of windows. Jessica grew up in Dover and had just graduated from Chester College of New England with her BFA when she approached the current owners (Peter, Paul, John and Chris) for work.  She started with flyers but moved on to the murals.  They decided upon musicians that would be easily recognizable and colorful, and Jessica drew preliminary sketches with an Art Nouveau and Gothic look to them. They wanted to represent the look of stained glass.  It took Jessica about 2 years to complete the project.
Jessica Alford wishes to "thank Peter and Paul for the opportunity for being able to showcase the images on the Stone Church years back and the back bone, Fred W. Cole Sr. who taught me how to do it! She also wants to thank all the subsequent owners for keeping them up for so long. One more big thank you goes out "for the support of my family, the town of Newmarket and all the patrons for enjoying all the work! "Thank you Jessica!  You've helped put Stone Church on the map!